Florida truly has something for everyone. With stunning coastline, ocean and outdoor activities galore, nationally protected land, bustling cities and beach towns, diverse cultures, and plenty of sports and amusement parks, it's no surprise that The Sunshine State draws millions of guests annually. It's a tourist destination and vacation paradise that draws millions of people annually, and the trends show no signs of slowing.
Being a popular and proven tourist destination, vacation rental investments throughout the state have grown considerably and are now one of the most exciting trends in Florida real estate.
The growth of remote work and the exciting new options available to travelers outside of traditional hotels has positioned the Florida real estate market well, providing savvy investors with a thriving vacation rental business.
Technology and economic trends have helped companies such as VRBO and Airbnb create a high demand for rental homes-away-from-home. Offering the same conveniences that travelers find at home, vacation rentals are comfortable for families, professionals, and large groups.
With vacation options more diverse than ever and rental properties in such high demand, there is no better time than now to invest in your Florida vacation rental property.
Sourcing the funds to purchase, refurbish, or build new vacation rentals may seem like a huge hurdle, but partnering with a skilled, local, and well-capitalized hard money lender like Community Capital Holdings means you can maximize the vacation rental market and see optimum returns. Here's why…
1 Hard Money Lenders Have Loan Approval Processes with Fewer Requirements Than Traditional Lenders
Whether you're a resident of the United States or a foreign national looking to purchase investment properties in Florida including vacation rentals, you can count on an easy funding process with private real estate lenders like Community Capital Holdings. Found the perfect Florida property to invest in? We ensure qualified applicants a smooth and super-quick approval process so you don't miss out on your dream vacation rental in Florida:
Connect with us and someone from our team will reach out to you to better understand your needs, answer any questions, and discuss your options.
Next, you'll complete our simple hard money loan application including the address of the Florida property and the requested loan amount.
We will look it over and get back to you within 24 hours indicating our interest and terms. Once qualified, we will agree on terms and requirements and gather all the proper documents (i.e. property title, insurance, appraisal, etc.)
Then, we make rapid funding a reality! Every deal is a little different, but typically, you can expect to receive the funds in 7-10 days.
2 Hard Money Lenders Consider the Property's Future Value
As market trends illustrate, vacation rentals are in high demand, can be extremely lucrative, and show considerable returns over time. Hard money lenders know this.
When applying for a loan, traditional lenders tend to look at only the current value of the property. When working with large investment properties that require land development, construction, and then cosmetic fixes, investors usually have to apply for multiple loans from big banks. When each loan cycle takes months, that's a lot of missed investment opportunities.
To the investor's advantage, hard money lenders consider the property's future value. This is extremely convenient for investors working on large real estate projects or vacation rental properties because they won't need to reapply for loans at each stage of the project.
3 Well-Capitalized Hard Money Lenders Accept a Higher Volume of Qualified Investors
The very best private money lenders like Community Capital Holdings are nimble, well-capitalized, and ready to lend. Our team of skilled underwriters are experts in the Florida market and have a steady stream of capital on hand to fund multiple projects at one time.
With over $100 million in funded projects and considerable commercial banking and lending expertise, finding a hard money lender with local market experience and a proven success rate for quickly closing private real estate loans is what separates our team from other lenders.
From advisory services to securing the capital needed for your vacation rental project, we've helped thousands of borrowers reach their real estate investment business goals and have built incredible relationships with our clients along the way. Investing in an income-producing Florida vacation rental? Having a well-capitalized partner like us is key in such a fast-moving industry.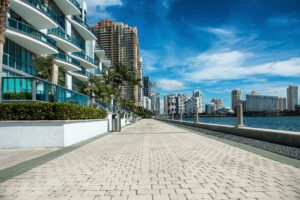 4 Quickly Secure Your Vacation Rental Investment Property with a Hard Money Loan
Some trends may change, but Florida's appeal for tourists, travelers, and vacationers has been consistent for a century. Airbnb just released its list of the most-booked destinations for this summer, as reported by Travel + Leisure, and the top four locations booked through the hosting company's website were in Florida.
If you want to get in on this trend and ensure you get the funding needed to secure your Florida vacation rental, you need the process to move speedily, go smoothly, and close quickly. Having a nimble hard money lender who specializes in the Florida real estate industry is crucial. Working with traditional lenders can take upwards of 3 months to close a loan due to conventional rules and red tape, whereas working with a boutique and local hard money lender can take less than 2 weeks.
At Community Capital Holdings, our wealth of experience, proven success rate, and ability to make quick decisions have enabled us to help both local and foreign investors in every aspect of the vacation rental and real estate investment process.
5 Locally Owned, Boutique Hard Money Lenders Know the Demands in Their Area
A good vacation rental investment can pay for itself. A great vacation rental investment has the potential to turn you a significant profit. When you work with a local hard money lender, you're not only getting high-quality professional experience, but you're also getting expert local knowledge.
We are experts in every location, seasonality and rental demand. We understand the best vacation towns, popular areas, and where to avoid. We know how to maximize the market from tax benefits to trends. We factor in potential, passive appreciation, and future profitability.
And we provide a client-centric, consultative approach to help each lender achieve their individual investment goals.
Our team lives in Florida and is committed to investing in The Sunshine State. Knowing the area, the local markets, and the real estate investment industry, Community Capital Holdings has each client's best interest at heart.
Thinking about investing in an income-producing vacation rental property in the Sunshine State? There are some essential things you need to know. Navigating Florida's short-term rental licensing and operating regulations can be complex.
If you want to better understand the vacation rental market and see maximum returns, you need a savvy, well-capitalized hard money lender by your side. We offer advisory services, attractive terms, local market knowledge, and quick decisions that big banks and traditional lenders simply can't beat.
If you're looking for fast, reliable funding for your Florida vacation rental property, you need proven, local professionals such as Community Capital Holdings.
Securing your perfect vacation rental property with Community Capital is just a few clicks away.